Fires are destructive. Life can be lost, and there can be a lot of damage. When people look into fire safety for their block of flats, they will want to know what it means to 'Stay Put'. Here is our guide to the 'Stay Put' policy.
What Is A 'Stay Put' Policy?
A 'Stay Put' Policy is an evacuation strategy used in purpose-built blocks of flats. When a 'Stay Put' policy is put into effect, it's to keep people safe when they are not in an area directly affected by the fire.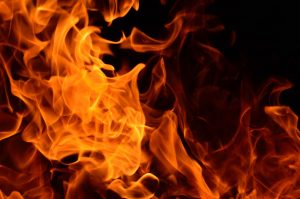 If a fire is not in their flat, they should stay inside with the doors and the windows closed. If a fire should occur in a person's flat or common areas of a building, they would be advised to evacuate and call the fire and rescue services.
You are not legally obliged to stay put if you wish to leave in the event of a fire.
Why Is A 'Stay Put' Policy Used?
Buildings built with concrete, fire doors, fire compartmentation and other fire protection can create a protective barrier against fire and keep residents safe by staying in their flats. Using a 'Stay Put' policy also allows firefighters to do their job quickly, easily and safely without mass panic.
Who Uses A 'Stay Put' Policy?
The 'Stay Put' policy works well, but that doesn't mean that everyone likes it or would do it if there was a fire around them.
During Fire Door Safety Week, people were asked if they would practice the 'Stay Put' policy if a fire broke out in their building. 72% of the people said they would not stay in their building if there were a fire, even if it was not in their flat. They would evacuate the building to get to safety.
39% of the surveyed people said that they didn't feel confident that their building was made well enough to make sure that it would protect them from the fire and the smoke. They said that they would leave the building right away if there were a fire in it.
Some people didn't know who was responsible for the building. They were not sure that the landlord is the one that takes care of it, and they didn't have the confidence that they should have in them. They should make sure that they get to know their landlord better and find out their plan of action for their building.
Conclusion
Fire safety is essential, and people should know what to do in the event of a fire. You should know what the appropriate fire evacuation and safety policies are within any building you are in. A 'Stay Put' policy can keep residents safe and allow fire and rescue services to battle a blaze effectively.