You cannot ensure the safety of your employees and customers without inspecting passive fire protection. Current fire safety legislation imposes everything from fines to criminal charges for business managers and owners that neglect to put in place appropriate fire safety measures. To ensure your company ticks all the boxes when it comes to legislation, you must conduct passive fire protection surveys.
Our service has built a reputation for delivering in-depth and efficient passive fire protection surveys. We have experience dealing with a wide array of different buildings, ranging from residential to commercial. Our understanding of all of the intricate details necessary to formulate effective passive fire protection measures is core to our success in helping our clients.
What is Passive Fire Protection (PFP)?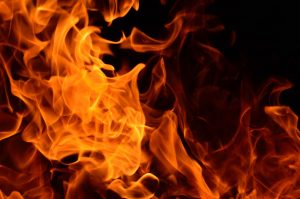 Passive fire protection involves making implementations that limits, protects, and contains the impact of a fire. Fire protection implementations often come in either passive or active variations. Active measures involve systems such as sprinklers and training employees on how to use extinguishers effectively. In contrast, passive measures work on a more fundamental level, which includes strategies such as coating walls with fire-resistant chemicals. To adequately safeguard a building from fire hazards, both passive and active measures are necessary.
More specifically, passive measures against fires focus primarily on limiting fire spread while also protecting the essential features of a building. Limiting fire spread involves focusing not only on preventing the actual flames from spreading but also the smoke and heat generated from the hazard. It is important to remember that the vast majority of harm and death attributable to fires is due to smoke inhalation, not direct contact with flames. Measures in limiting the fire must comprehensively deal with all issues of smoke, fire, and heat, that arise.
Protecting essential features and locations throughout a building is also another critical component of passive fire protection. Main areas of entrance and exit are crucial during an emergency fire situation. If areas such as exits are obstructed or too dangerous to approach during a fire, there may be grave consequences. Ensuring that areas such as exits and doors have as much protection as possible from fire is crucial to proper fire protection.
In summary, common passive fire protection implementations include:
Implementations that focus on limiting smoke, fire, and heat from spreading
Putting in place protections against fire in key areas, locations, and routes
Combining fire protection and limitation measures for designated fire escapes
What is a Passive Fire Protection Survey?

The only way to accurately gauge the effectiveness of your current passive protections against fires is through a passive fire protection survey. These surveys involve fire protection consultants visiting your premises and analysing all of the measures that have been put in place. A thorough inspection of all potential areas for fire is also a vital component of the survey. Once the survey is complete, you will get a comprehensive report that outlines the general level of protection that the building currently has, while also highlighting key areas for improvement.
Passive fire protection surveys must be a regular occurrence at your company. Legislation requires all buildings, with the exception of residential dwellings, to undergo an inspection and survey regularly. The reasoning behind why the laws are so strict is because passive protections can deteriorate very quickly. Skipping a survey could potentially lead you to overlook critical vulnerabilities in your current fire management implementations. Should a fire occur and damage or death result, you could be held criminally liable.
What Are Examples of Passive Fire Protection Products?
There are many products available that are crucial to maintaining a high level of passive fire protection. Reports that are issued after a survey will often include a range of suggestions and recommendations regarding new products that need to be implemented for increased protection. Many products are highly complex, combining functions of fire resistance and thermal resistance. Here are some of the most common implementations you will need to make your building conform to passive fire protection legislation.
Firewall
Firewalls are made of highly fire-resistant materials, making them incredibly useful for containing the spread of fire. In large and dangerous fire situations, these walls also buy crucial time for anyone inside to swiftly escape before the fire spreads throughout the building. Usually, the walls get installed in areas close to essential fire escape routes.
Fire Doors
Fire doors are made from materials which are designed to resist fire. These doors have to be able to withstand extremely hot temperatures. They are also installed in buildings to prevent smoke from escaping into other parts of the building. Fire doors surveys must be carried out to ensure they are compliant with regulations.
Fire Dampers
The air conditioning system within a building can play a significant role in helping the spread of smoke and flames. The ducts can quickly spread smoke from one room to the rest of the building, causing a disastrous situation. Fire dampers are vital to ensuring air ducts prevent fire and smoke spread throughout the building.
Fire-Resistant Coatings
Many chemical compounds are incredibly resistant to fire and heat. Conveniently, these compounds can often be used as sprays. Spraying and coating fire-resistant chemicals onto walls, glass, and other materials is highly effective in containing the spread of a fire.