Full compliance with fire regulations and passive fireproofing measures are at the forefront of fire safety in protecting tower blocks and high-rise buildings from being devastated by fire.
In the aftermath of the 2017 Grenfell Tower tragedy that resulted in many casualties, fire regulations for tower blocks came under severe scrutiny. They were re-assessed to prevent similar events from occurring in the future.
Fire can spread rapidly under the right conditions, completely engulfing multiple floor levels and even destroying an entire tower block. For this reason, fire safety in tower blocks is extremely important.
In the event of a fire breaking out, a number of fire safety measures should already be in place to protect the safety of residents and visitors.
Below we provide an outline of current rules for tower block fire safety in the UK and an overview of passive fireproofing measures required for full compliance with government regulations.
Fire Risk Assessments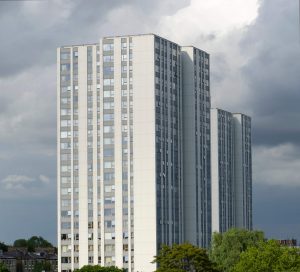 The 'Responsible Person' has a legal obligation to conduct an annual Fire Risk Assessment on a residential block of flats. The assessment must include the following checks:
Sprinkler systems that need to be optimised
Fire extinguishers that need servicing or replacement
Fire signage that needs replacement
New compliant fire doors that may be required
Wear and tear on fire door fittings that may need repairs or replacement
Testing of fire alarms and smoke detectors and the installation of new batteries if required
Testing of emergency lighting
Fire safety training for newly delegated fire marshals or wardens
A properly conducted fire assessment report will highlight any fire safety risks and expose any areas of weakness in the fire protection plan that need to be addressed. There are four types of fire risk assessment for purpose-built flats.
Building Compartmentalisation
Compartmentalisation subdivides a tower block into different compartments that usually consist of corridors and rooms fortified with fire-resistant materials. This reduces the speed at which a fire may spread and allows multiple escape routes for people to exit the building.
Building compartmentalisation forms the basis of the 'Stay-Put' policy that has been in place in the UK for more than fifty years. The policy is based on the theory that anyone in a flat where the fire originated will have to evacuate. However, their neighbours should remain safe and will not need to evacuate. The policy does not apply to all buildings, and a fire risk assessor will be able to further advise further on fire compartmentation surveys.
Smoke Detection and Fire Alarm Systems
Smoke detectors and fire alarm systems should be fitted on every floor of a tower block and regularly tested to ensure they are working perfectly. All flats need a domestic fire alarm and smoke detector installed. To ensure that a fire is detected as soon as possible, at least one smoke detector should be installed in each escape route. Ideally, there should be a fire alarm in every room.
Clear Escape Routes
Provision should be made for clear escape routes with clearly marked fire signage to ensure everyone knows where to go and where the nearest exit is located. The escape routes have to be kept clear, and no flammable materials like cardboard boxes and paper should be kept in the area.
An emergency lighting guidance system should also be installed so that people can safely find their way out, even in the event of a power outage.
Suitable Fire Doors

Fire doors should be safe and compliant as they are a major component in any Passive Fire Protection strategy. They are crucial in helping to prevent the spread of fire and smoke from one floor to another.
However, fire doors are only effective if they are maintained and in good condition. Fire doors need to be tough enough to withstand fires for a period of time. At the same time, they need to be durable enough to allow the wear and tear of daily use.
Because of being used daily, they need to be clearly marked to warn people never to wedge them open on any account. Should a fire start, a wedged-open fire door will be useless at blocking the spread of fire into an adjacent corridor or room.
There are several factors to consider when checking whether a fire door is compliant. Due to high usage, it is extremely important to have all fire doors maintained regularly and periodically carry out fire door inspections by a professional fire door inspector. It is recommended that a fire door inspection service be carried out at least every six months.
In conjunction with a regular Fire Risk Assessment, the 'Person Responsible' will have a clearer understanding of the fire safety requirements for that particular building.
Fire Safety Policies and Procedures
There are specific regulations regarding fire safety and fire protection systems in tower blocks. However, there is no point in having a set of robust fire safety policies and procedures in place if the residents and workers in the building are unaware of them.
The 'Responsible Person' in a tower block is in charge of communicating this information to everyone living or working in the building. Fire safety policies and procedures should be communicated via highly visible Fire Action Notices displayed in common areas and renewed at least once a year.
Core Techniques for Fire Protection in Tower Blocks
Fire Doors
Depending on the grade of materials used, on average, fire doors should provide protection for around 30 to 120 minutes. Materials may consist of steel, gypsum, aluminium, or timber, and any windows must be fitted with shatter-proof mesh. Fire doors must have intumescent and cold smoke seals to block fire and smoke from passing through. All fire doors should be clearly labelled and self-closing.
Smoke Detectors
All flats should have domestic smoke detectors fitted, ideally in the most important escape route areas. Smoke detectors are an absolute priority for fire protection and should be checked annually during the risk assessment.
Escape Routes
Residents and workers should ensure that escape routes like corridors and stairways are kept free of flammable materials, gas canisters, and any objects that can block the path of people trying to exit the building. Escape routes must be fitted with effective fireproofing materials that ensure they will remain safe for the expected duration of a typical evacuation.
Maintaining Dry Risers
Dry risers are empty pipes that the fire and rescue use to pump water up to extinguish a fire in the upper levels of the building. All buildings between 18 metres and 60 metres tall are required to have at least one dry riser. Dry risers should be appropriately maintained with a minimum 6-month visual check and a 12-month water test.
External Wall Survey
An External Wall Fire Review (EWS1) entails a comprehensive assessment of the fire safety standards of the external walls and cladding of a building. It is of particular importance in multi-storey, multi-occupied high-rise structures and buildings with balconies that have an increased risk of spreading fire.
A single assessment is needed for each building, and once the EWS1 Form has been completed and authorised, it is valid for five years. The survey must be completed by a qualified assessor or fire safety engineer who can then also complete an EWS1 Form.
FAQ
Who Is Responsible for Fire Safety in Tower Blocks?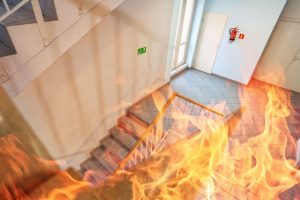 The responsibility for fire safety in purpose-built flats and tower blocks is usually shared between residents and the landlord/managing agent.
Residents are required to ensure that appropriate smoke detection devices are installed and that they are in good working order.
In a freehold property, the tenant should ensure that the flat's front door is a fire door of a suitable standard. In a leasehold property, the leaseholder and tenant are jointly responsible for ensuring that the front door is a suitable fire door.
The landlord is responsible for fire safety in common areas such as corridors and stairwells in tower blocks. This means the landlord is responsible for a valid Fire Risk Assessment being carried out regularly, those common areas are protected, and highly visible notices of fire safety policies and procedures on display throughout the building.
What Fire Detection Do I Need in My Flat?
Domestic smoke detectors are required in flats that can be obtained from any DIY store or online. Smoke detectors should ideally be installed in escape routes such as corridors and interlinked between all rooms to be activated if one is triggered.
How Do I Check My Flat's Fire Door?
Fire doors should be correctly built and installed, and fully tested to prevent failure.
Check that they are fitted with an automatic door closure
Check that the seals around the edges are in good order so that they will swell when heated, blocking any gaps
If there are windows in the fire door, they must be fitted with fire-resistant glazing
Any ironmongery must be fire-resistant
As a Responsible Person What Is My Duty to the Residents of a Tower Block?
A Responsible Person in a tower block should have a valid fire risk assessment conducted and ensure that all recommendations are carried out to protect residents from the risk of fire.
It is the responsible person's duty to ensure that all fire safety protection measures are adhered to, such as making sure that escape routes are kept clear, and that dry risers and other firefighting equipment are regularly checked and serviced.
The Responsible Person should also ensure that all safety procedures and policies are clearly communicated by mail or email to all residents and that reminders are sent at least once a year.
Conclusion
Effective fire safety in tower blocks needs to have both active and passive fireproofing systems and structural measures such as compartmentation.
Active systems are designed to respond by detecting and fighting fire and includes devices such as sprinklers and smoke detectors. Passive systems help to contain or stop the rapid spread of fire in a high rise building.
The most relevant regulation regarding tower blocks is contained within The Regulatory Reform (Fire Safety) Order 2005 that mainly deals with commercial buildings and covers residential blocks.