Fire alarm systems play a vital role in the detection of fire. All premises must be equipped with an appropriate fire detection system according to UK fire alarm safety regulations.
With an effective fire alarm system installed in your building, any fire outbreak will be detected easily, and occupants alerted in due time.
Failure to install a working fire alarm system in your building not only puts the property and lives of occupants at risk but also means that your building is not compliant with applicable regulations.
Non-compliance comes with severe regulatory and insurance implications for duty holders.
As seasoned fire safety professionals, we offer top-quality fire alarm system survey, design and installation services. Having worked in this industry for many years, we have a great understanding of what makes for an efficient and reliable fire alarm system.
Fire Alarm System Services
Fire Alarm Surveys

An efficient and reliable fire detection system must meet your specific requirements because every building and application is unique. As such, before we recommend any fire alarm systems, we send one of our qualified technicians to your property where they can conduct a detailed fire alarm survey.
During the survey, our experts will be able to take stock of the current situation of your building's fire detection system. Upon completion of the survey, we will prepare a survey report that details our findings. The report will include any recommendations on improvements to be made, where necessary.
Fire Alarm System Design
Our system design service is focused on helping you achieve your fire safety goals. Our team can provide you with detailed CAD drawings of your fire alarm system design.
Our expert designers can put together a cost-effective design that is customised to satisfy the fire alarm system grade or category requirements that suit the needs of your building. Our plans are also in line with British Standard BS 5839 provisions.
Fire Alarm System Installation

Fire alarm installation must be conducted by a "competent" person, according to UK fire regulations. You must ensure that you have an effective and reliable fire alarm system.
Our installation experts are well versed with the provisions of BS 5839, qualified electricians, familiar with different models of alarms and understand various types of alarms and how they operate.
Armed with a detailed alarm system design prepared by our in-house design experts, our seasoned alarm system installation professionals will ensure that everything is done right, the first time around.
Fire Alarm Cause and Effect
To completely understand how your building's alarm system works, it is important to have a fire alarm cause and effect analysis conducted by a qualified professional.
Our cause and effect site inspection service focuses on assessing the condition of the fire alarm system in the building in question, ascertaining the cause and effect of the current system, confirming the fire strategy and making recommendations for changes, where necessary.
Fire alarm cause and effect analysis plays a major role in managing false alarms and reducing the likelihood of having too many people evacuating at the same time.
Fire Alarm System Information
Fire Alarm System Grades
Fire alarm system grades normally relate to the design and installation of fire alarm systems. There are six grades of fire alarms, ranging from Grade F to Grade A. Each grade provides detailed guidelines on the areas of the property to protect and the types of system to install.
The updated alarm grades are:
Grade A: Uses equipment compliant with BS EN 54. Sounders and detectors must be separate and indicating and central control unit with mains and backup power supply.
Grade C: Devices that combine detectors and sounders in one package, central control unit and mains and backup power supply.
Grade D1: One or more detectors in a mains powered system with a tamper-proof standby power in the form of batteries for each.
Grade D2: One or more detectors in a mains powered system, each with user-replaceable standby batteries.
Grade F1: One or more battery-powered detectors, each with tamper-proof batteries, in a system.
Grade F2: One or more battery powered detectors, each with user replaceable batteries, in a system.
Fire Alarm System Categories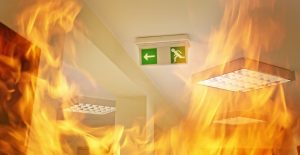 Fire alarm system categories, under BS 5839, offer guidelines on the level of protection provided by fire alarm systems. This mainly refers to the location of the alarms and not the alarms themselves. These levels of protection relate to property and life.
Category M Fire Alarm Systems
Considered to be the simplest of the systems, Category M Fire Alarm Systems are manual systems in which the alarms must be manually activated at specific call points.
Category L Fire Alarm Systems
Specifically designed to protect life, Category L systems offer automatic fire detection and sounding of alarms. In this category, there are five different levels – L5 to L1 – each one offering varying levels of protection.
Category P Fire Alarm Systems
The main aim of Category P fire alarm systems is to protect property. The category is divided into two levels – P1 and P2 – each offering a different level of protection.
Fire Alarm System Types
Conventional
Conventional fire alarm systems usually divide the building into different detection zones. Each zone, or circuit, is made up of a system of detectors and call points wired to a Control Panel.
When a fire detector in a given circuit is triggered, the Control Panel identifies the specific circuit and zone affected. However, to locate the particular device that has been activated manual tracing is required.
Conventional alarm systems are less costly than other systems.
Addressable
Addressable fire alarm systems are similar to Conventional systems, with the most significant difference being that in Addressable systems, the location of individual detectors can be identified from the Control Panel; this eliminates the need for manual tracing of detectors. Simply put, these systems use conventional detectors with an inbuilt address.
To facilitate the easy location of detectors and call points in a given circuit, the Control Panel is programmed to display the address of each detector and call point which is set by DIL switches.
These systems can also accommodate a variety of additional field devices, enabling more functionality.
Analogue Addressable
Analogue Addressable fire alarm systems are designed to be more advanced than both Conventional and Addressable systems.
Analogue Addressable systems are also referred to as Intelligent systems. They are mostly used to prevent false alarms. In addition to responding to a given event, they can also identify what is triggering the detectors, like faults, accumulation of dust, or a genuine fire.
These systems are suitable for expansive premises, up to 127 input points, such as interface devices, call points and detectors, can be wired into each loop. These systems are available in 8, 4 and 2 loop variants; meaning that one control panel can be used to monitor expansive spaces.
Wireless Systems
As their name suggests, wireless systems provide the same level of functionality as the above options while doing away with the need for cables.
Instead of using cables to connect the different detectors and call points in each circuit and Control Panel, wireless, battery-powered components are used.
These wireless components rely on a license-free, secure radio signal to connect the different components used to the controller.
Fire Alarm Systems FAQ
What Is the Difference Between Addressable and Conventional Alarms?
The two main types of Fire Alarm Systems are Conventional and Addressable Alarms. While they are similar in many ways, they are not completely the same.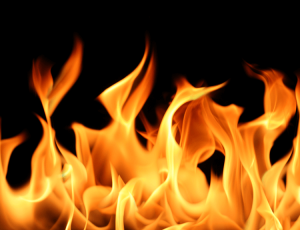 The main difference between these two systems comes in the means of identifying and locating specific detectors or call points in each circuit.
When a detector is triggered in a Conventional system, the circuit and zone can be identified from the control panel. However, to identify the specific detector in question, manual tracing is required.
Addressable systems, on the other hand, are designed to make the location of specific detectors from the control panel much easier, thanks to their use of detectors with a built-in address.
Furthermore, Addressable systems use a loop to connect all the call points and detectors in a single circuit to the control panel. Conventional systems do not use a shared connection instead of using individual cables to connect each detector to the control panel. This means that Addressable systems are easier to install; however, they are costlier to procure than Conventional systems.
What Are the Fire Alarm System Components?
Fire Alarm Systems are made up of the following main components:
Alarm Initiating Device
Building Safety Interface
Fire Alarm Control Panel
Remote Control and Display Panels
Alarm Notification Device
Power Supply: Primary and Backup
What Are the Fire Alarm System Regulations?
The Regulatory Reform (Fire Safety) Order 2005 (RRO) sets out the fire alarm system regulations in the UK. In addition to the rules set out in the RRO, the UK government also recommends that installation and maintenance of all fire detection and alarm systems should be in line with the relevant British Standards, with BS 5839 being the main point of reference.